Now available: the book Understanding Ugly: Human response to buildings in the environment, by Ian Ellingham, MBA, PhD, FRAIC. Published by Corinivm-Peregrini Media.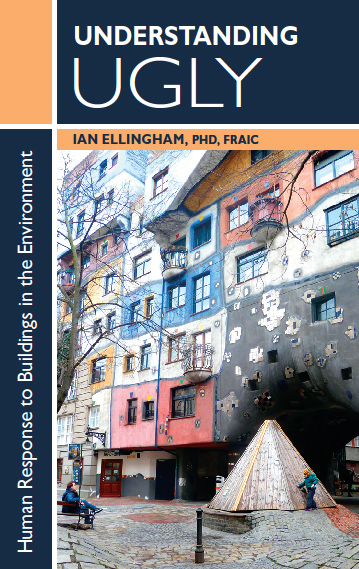 Link to video
This book explores research about the visual factors that determine how a building will be received, sometimes esteemed by one group and despised by another. It effectively translates the rich collection of research done in universities, into language and concepts that can be used by practitioners and enhance the enjoyment of those who appreciate buildings and urban spaces.
Dr. Ellingham is a member of the Niagara Society of Architects and a Fellow of the Royal Architectural Institute of Canada.

Previous books include:
100+25 Years: OAA Perspectives on a Quarter Century, (2014) Ian Ellingham and Gordon Grice. Toronto: Ontario Association of Architects. ISBN-13 97809693513-3-6

Whole Life Sustainability, (2013) Ian Ellingham and William Fawcett. London: RIBA Publishing. ISBN-13 978-1859464502
Sustainability within the Construction Sector: Life Cycle Costing and Assessment, (2013) Oslo: SINTEF Academic Press: - Project participant. Available through ResearchGate.
New Generation Whole-Life Costing, Property and Construction Decision-Making Under Uncertainty (2006) Ian Ellingham and William Fawcett. London: Taylor & Francis. ISBN-13 978-0415346580 Shortlisted for the 2007 Royal Institute of British Architects President's Award for Research.

.
0
comments